(Picture:- One of our Green Pythons when it was a hatchling).

BUY GREEN PYTHON MERCHANDISE HERE!
Geckoes: Biology, Husbandry, and Reproduction Translated from German by John Hackworth.

Snakes: Atlas of Elapid Snakes in Australia by Richard Longmore.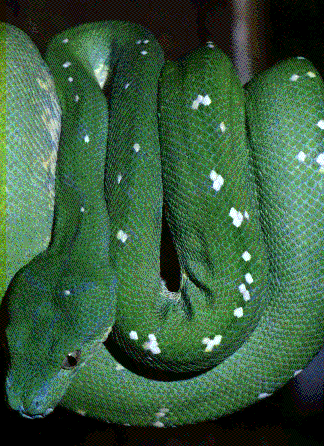 (Picture- our female Green Tree Python)

Familia Gekkonidae (Reptilia, Saura, Part1: Australia and Oceania) by A. M. Bauer & K. Henle.

Care and Husbandry of Boas and Pythons by Terry Lilley.



Medical Use of Snake Venom Proteins by Kurt F Stocker.

Herpetology of Indonesia by Indraneil Das.


Snake Toxins by Alan L. Harvey.

Lizards: Husbandry an Reproduction in the Vivarium; Geckoes, Flap-Footed Lizards, Agamas, Chameleons, and Iguanas by M. Rogner & J. Hackworth.


Search:

Keywords:

Visit our Australian Herpetology Page

BUY GREEN PYTHON MERCHANDISE HERE!


© John Fowler and Rachel Barnes. All rights reserved. Reproduction or reuse of information or materials from this web site is strictly prohibited and against international law. (NOTE:- No permission is needed to link to this web page)
---
---